TEMPLATES
Top-notch Templates for Every Occasion
Looking for flyers for your business promotion? Or want to create buzz for an upcoming event? Want to flaunt your food and travel pictures? We have got your back for everything! LightX templates will take your design from ordinary to extraordinary in a few minutes. Just choose your vibe and leave the rest to us!
SOCIAL POST
the social bee in you
If the social bug has bitten you, then you are at the right place. LightX has everything from making your Instagram feed aesthetic to flashy and catchy YouTube Thumbnail that gets all the clicks. Even if you are not a designer, there is no need to worry! You just need to come up with an idea and LightX has templates for every social media platform.
Expert Photo Editing Tools
With LightX photo editor's variety of features and tools, editing and retouching your photos is as easy as ever!
Utilize the power of Text
Combining the power of text and image gives you the best of both worlds! That's where the pre-designed text templates come in. Text templates like Social, Shop, Callout, and Caption give you a variety of options to choose from? Want a basic headline? Choose from Caption templates. Want a catchy CTA? Choose from Shop templates. LightX has it all! the text editor even gives you options to edit your text however you like!
Add a pinch of you in every design
No design or social media creative is complete without a few illustrations here and there. They are like the icing on the cake! Illustrations also add depth and a sense of individuality to the design. LightX offers a huge library of illustrations like Call Out, Social Media, Print, Work, Travel, and many more. What's even better? You can also change the colors of these illustrations to suit the design.
Amp up your content with Stickers
Sending a Birthday Card? Use cute party stickers for your card. Making a promotional business post? Use work-related stickers. From cute, sweet stickers like hearts and kisses, to holiday-themed stickers, emoji stickers- the LightX library has it all. We keep updating the Store so you never run out of stickers to use. Well, that's not it, you can adjust the size and the opacity of these stickers to make them fit in.
The All-In-One Photo Editor you need
You think about any photo editing tool out there, you'll find that in LightX Photo Editor. Want to enhance your photos? Use the Adjustments and Filters. Got a picture to give a dramatic look? Choose from the Duotone Effects, Effects, and Overlays. Want to add your logo over a picture? Do it seamlessly.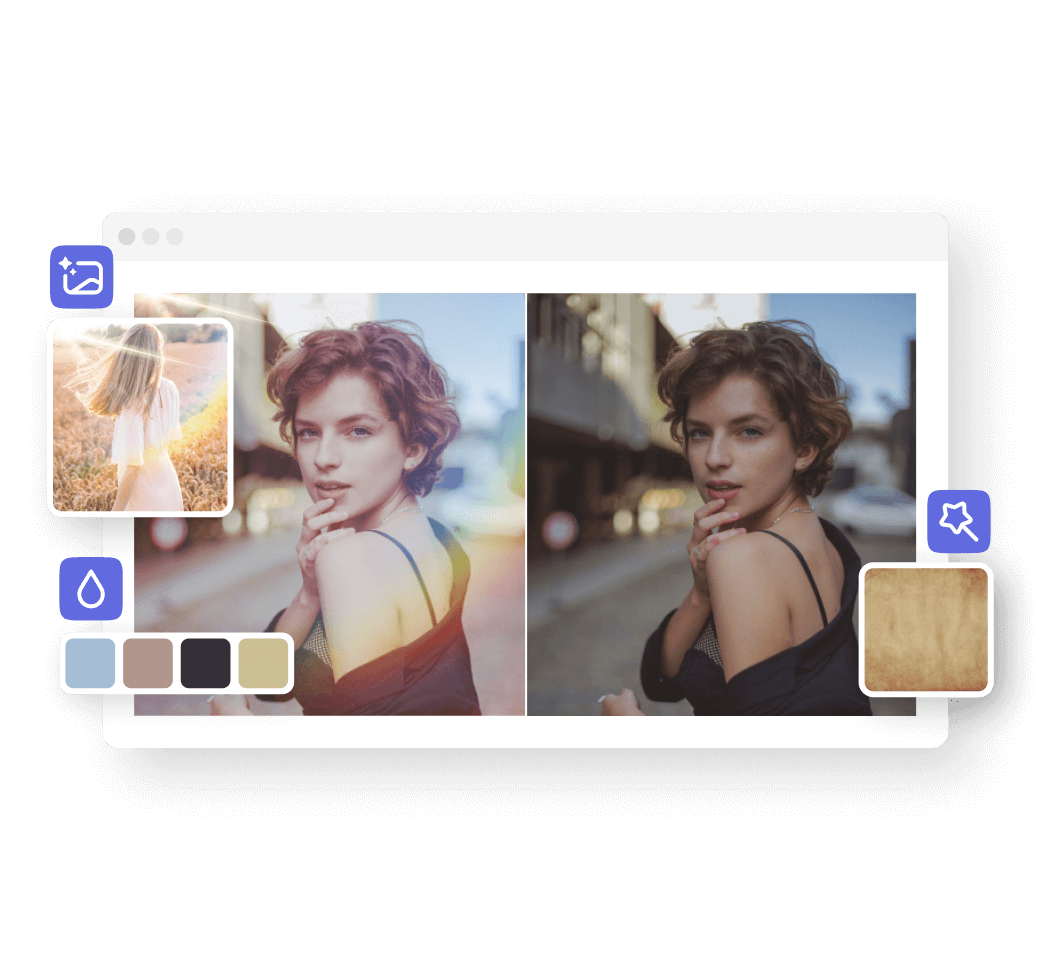 LightX Mobile App
Mobile App for remote editing
All in one photo editor
Variety of thematic Store elements
AI-powered editing tools
Hundreds of design templates
Get access to dozen of professional templates
And start creating your project today
Trending
Profile Picture
Thanksgiving
Black Friday
Cyber Monday
Product Showcase
Product Sale
Flyer
Product Promotion
Product Highlight
Birthday Wishes
Birthday Invitation
Birthday Collage
Promotion
Birthday
Frames
Healthcare
Instagram Story
Collage
Minimal
Classic
Invitation
Showcase
YouTube Thumbnail
Aesthetic
Instagram Post
Layouts
Good Friday
Food Flyer
Diwali
Easter Wishes
World Cup
Living style
Facebook Cover
Wedding
Testimonials
Magazine
Shop
Social
Podcast
Announcement
Poster
Labor Day
Halloween
Education
Ebook
Pet
Baby Milestone
Fitness
Meme
Fashion
Quotes
Event
Film
Food
Sports
Travel
WhatsApp Status
Pinterest
Twitter Post
Instagram Portrait
Instagram Landscape
Facebook Ad
New Year
Love
World Health Day
Holi
Valentine's Day
Memorial Day
Eid Sale
Eid Wishes
Ramadan Invitation
Ramadan Sale
Ramadan Wishes
Women's Day Wishes
Women's Day Sale
Valentine's Day Quotes
Valentine's Day Collage
Valentine's Day Frames
Valentine's Day Invitation
Valentine's Day Wishes
Valentine's Day Sale
New Year Frame
New Year Invitation
New Year Collage
New Year Sale
New Year Promotion
New Year Wishes
Christmas Invitation
Christmas Collage
Christmas Promotion
Christmas Wishes
Christmas Frame
Facebook Event Cover
Friendship Day
International Yoga Day
World Environment Day
Eid
Facebook Square
Christmas
Environment
Anniversary
Youtube Cover
Independence Day
4th July
Pride Month
Father's Day
Mother's Day
All Set to Go Pro?
Upgrade to LightX's Premium plan to get access to all the pro templates, tool, features, and assets.